Ahh, Upstate New York. One of America's most hidden gems. Most people, when they think of New York, they immediately assume New York City. But did you know that NYC is less than 1% of the landmass of New York State? There are endless things to do in Upstate New York, too! From cute small towns to breathtaking waterfalls to fun young cities. Here are our favorite Upstate New York hidden gems!
Fun Fact: The dictionary defines "Upstate" as whatever is north of you. Since most of New York State's population lives in the NYC region, we'll define Upstate New York relative to NYC. AKA: Everything north of NYC. From the Adirondacks to Buffalo to the Catskills. Don't fight us on this one. In addition to the dictionary, even Wikipedia agrees with this definition!
---
Favorite Things to Do in Upstate New York
Did you know that the entire country of Iceland could fit in New York State? Our state is so big that we had to divide this list by region. So if you're looking for a specific NY area, keep scrolling!
Did we miss anything interesting? Do you have a small local business you'd like us to check out? Drop us a comment below!
---
Catskills

, NY
Book a Horseback Riding Tour
Combine a leg workout with exploring the Catskill's beautiful nature on horseback! After all, New York State is horse country! So take advantage of the unique horseback riding culture just a few hours north of NYC. Here are some excellent places to go horseback riding in NYC:
Hiking & Farm Experience with Llamas/Alpacas
If you love a hands-on experience with animals, this is the perfect activity! Llamas and alpacas are soft and cuddly creatures with an exciting history. From homestead owner and educator Andrea, you can learn all about camelids (the biological family containing alpaca and llama members) while getting up close and personal.
Walk through magnificent pastures and fields, strolling alongside llamas and alpacas with a large or private group. Don't forget to take a llama selfie with the countryside backdrop!
Farm Animal Cuddles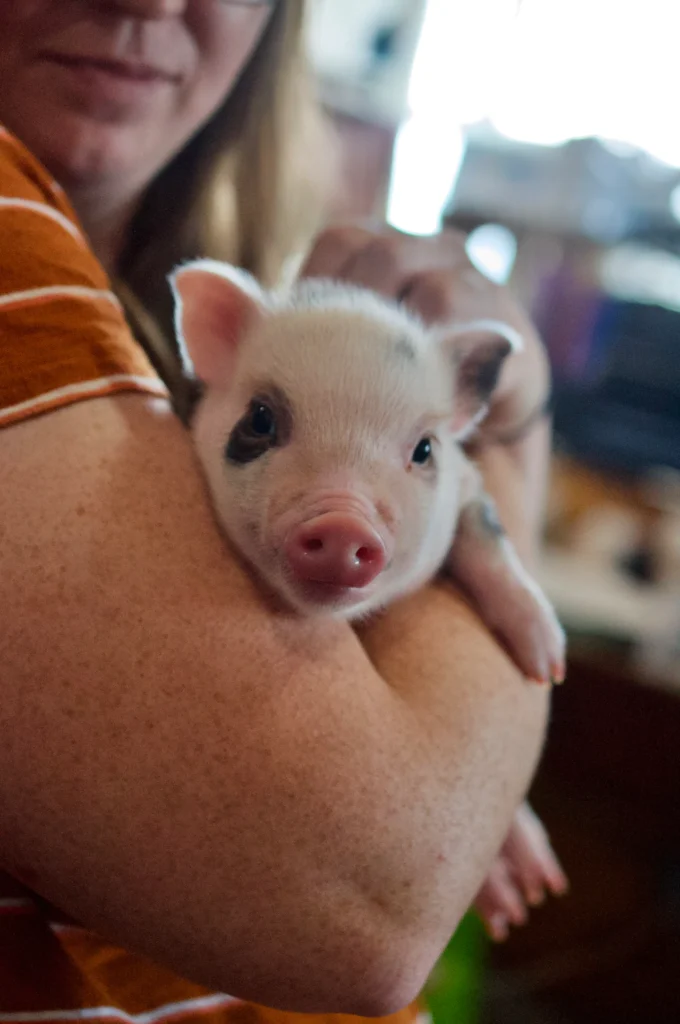 There are a ton of farm animal sanctuaries and small farms in Upstate New York. I would recommend avoiding sanctuaries that house wild and exotic animals without researching beforehand; look into how they procured the animals, the history of the establishment, whether they breed these animals, etc.
On the other hand, farm animal sanctuaries are generally small farms that have saved or purchased animals to keep them away from slaughterhouses or similar fates. These farms may breed and raise animals themselves, but their goal is to keep these creatures happy and safe. Animals housed here are generally comfortable interacting with humans, especially children, individuals with autism, or people who suffer from anxiety. Cuddling up with a pig or goat can really brighten your day–except when a goat is in a mood and turns mean!
Cool Off in a Swimming Hole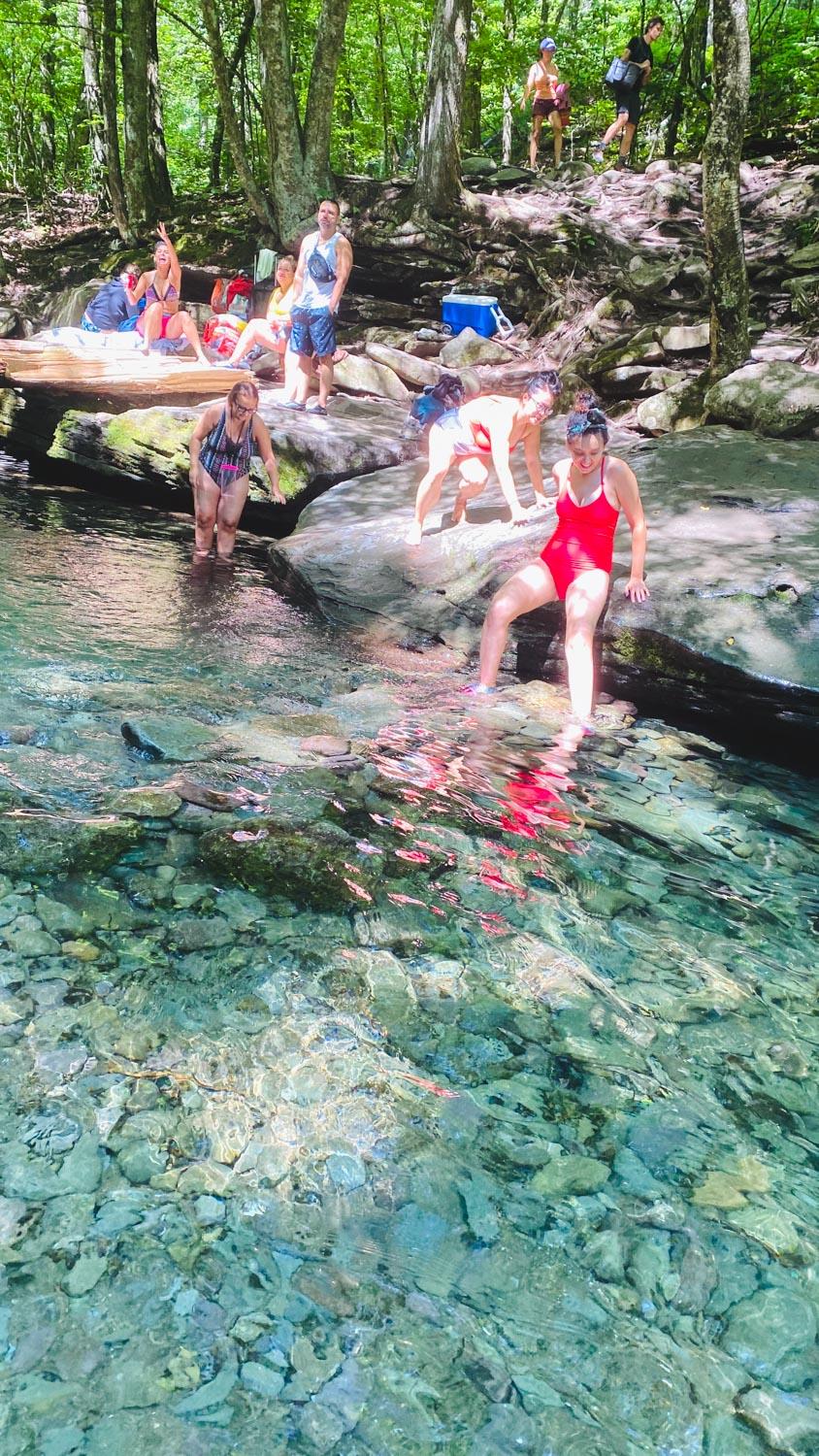 Lakes scattered across the Catskill Mountains are perfect places to rent a cabin for the weekend. There are tons of swimming holes and hikes in the region, perfect for cooling off in on a hot summer day. With swimming holes growing in popularity, keep in mind that they may get crowded. Peekamoose Blue Hole is the most well-known, making it one of the most sought-after spots for many travelers.
You can visit a few lesser-known swimming holes if you want to avoid crowds. Diamond Notch Falls lies at the end of several different hiking trails. Kaaterskill Falls is another great swimming spot requiring a steep hike, with a swimming hole below the waterfall; avoid this spot on the weekends to miss the crowds.
Otter Falls is another great swimming hole located at the basin of 30-foot cascading falls. In the wet months, the pool is 6 to 8 feet deep. The dry months leave a shallow pool that is still perfect for cooling off in after a hike.
Visit the Town of Woodstock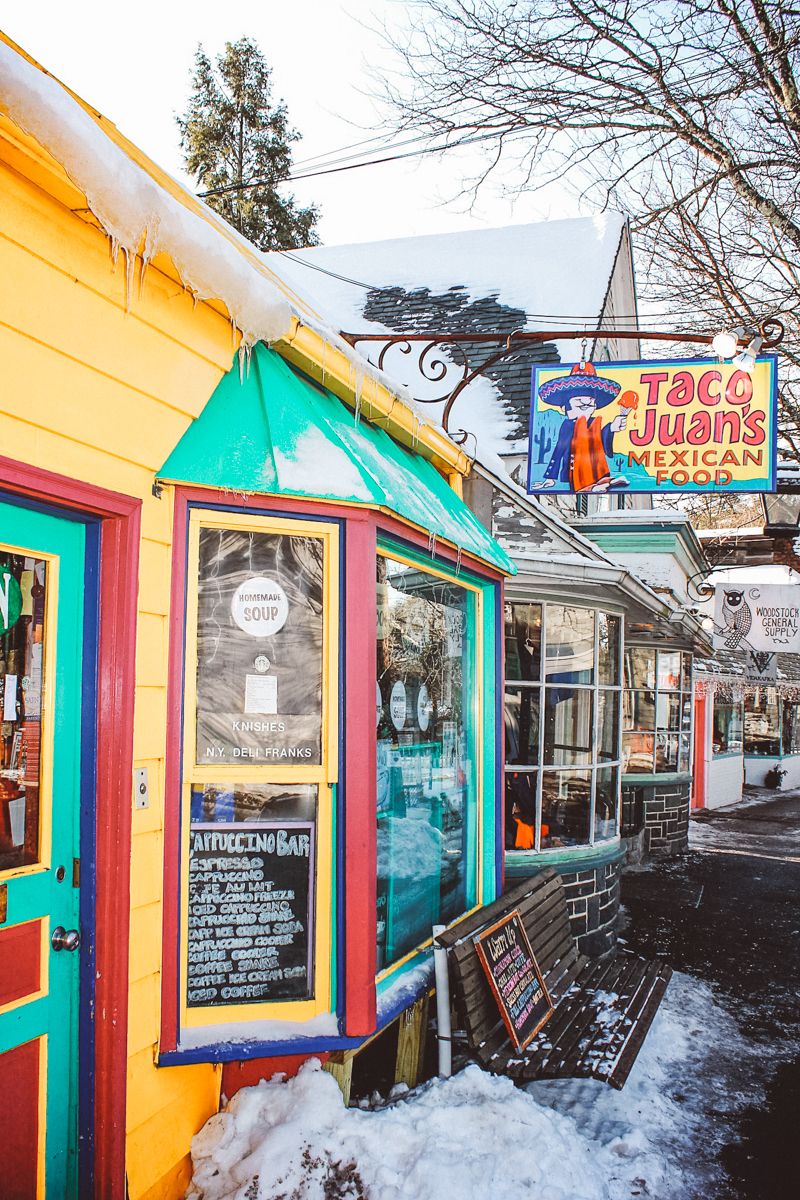 It may surprise you to know that Woodstock, NY was not the site of the 1969 Woodstock Music Festival. This famous spectacle actually occurred in Bethel, NY, 60 miles southwest. If you're looking to attend a show on these infamous grounds, performances at Bethel Woods Center for the Arts are still running strong!
Aside from this misconception, Woodstock is still an amazing town worth visiting. The local shops, eateries, and cafes exude the same ideology and allure behind the draw of the Woodstock Music Festival. There are amazing boutiques on Main Street where you can support local artisans and artists of the Catskills.
Tour Option: There is a Woodstock Rock n' Roll Tour if you're into music history!
Rail Explorers Railroad Tours
See the natural sights of Phoenicia, NY, with this unique railroad tour! Rail Explorers set you up on the tracks with an electric pedal-powered rail bike. Tours are offered at all hours (day or night), but I recommend a daytime tour to catch the views–unless it's Halloween!
This experience is accessible to all and requires light exercise, which is perfect for doing with friends or family. While you may not get tired, paying attention on the tracks so as not to bump into the person in front or back of you is important.
I recommend booking the Golden Hour tour in the fall. Before your ride, hit the iconic Phoenicia Diner in town. Staying overnight? Hotel Mountain Brook in Kingston is a cute and cozy place to stay.
Go Hiking in the Catskills
---
The Finger Lakes, NY
If you couldn't tell by now, we LOVE the Finger Lakes region. This region has so many cute places to stay and even more things to keep you busy.
Explore Harriet Tubman's Home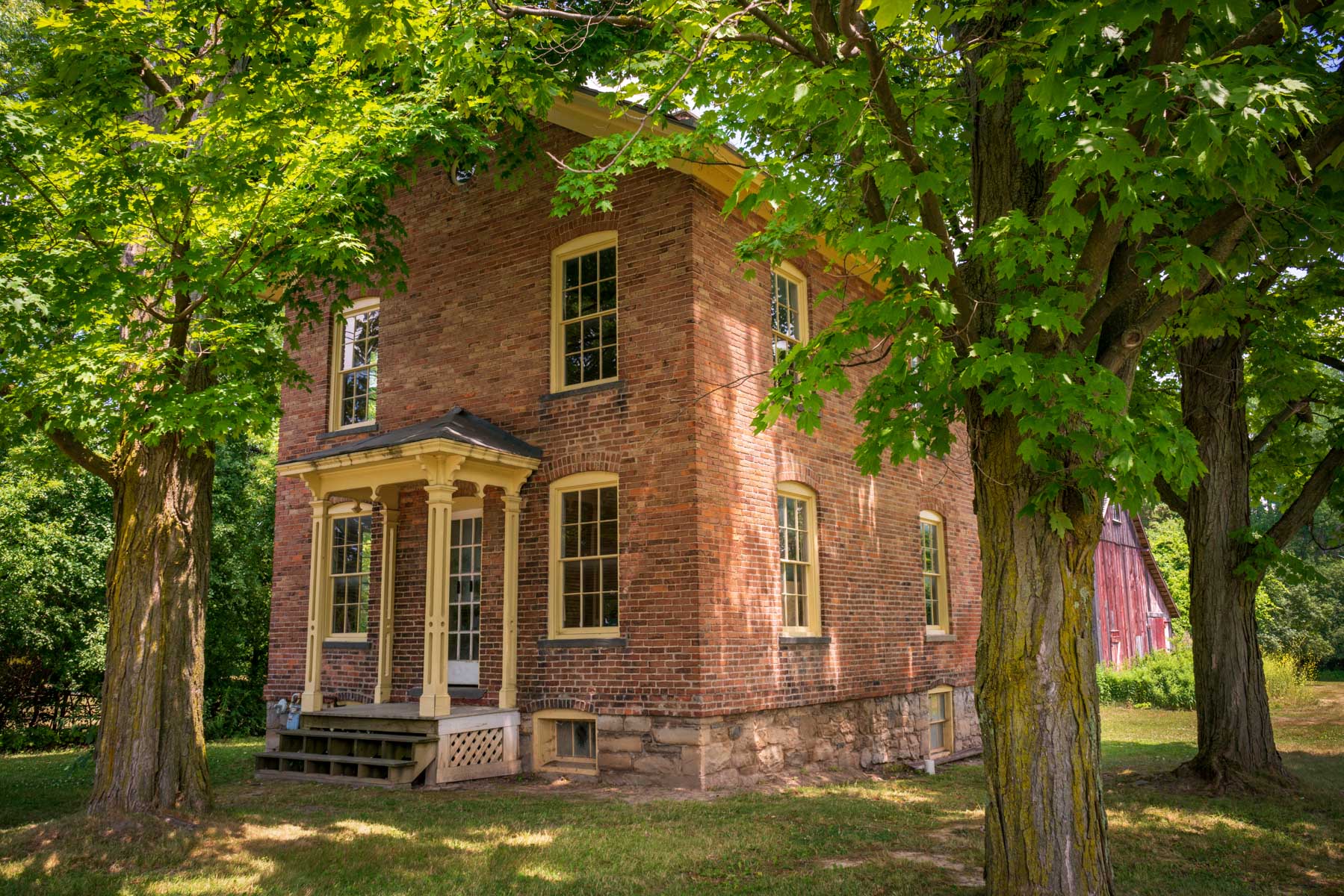 Step into the prior home of Harriet Tubman in Auburn, New York. This residence is where she spent the latter part of her life, and it's now a United States National Park. Tours of the home are offered twice a day, and you must reserve a spot in advance. Harriet Tubman was one of American history's most inspirational abolitionists, political activists, and female military leaders. Learning about her in her former home is quite the experience.
As of March 2022, tours inside the property were prohibited, and only outdoor tours were available. Call to check before making your tour reservation to confirm.
Join a Finger Lakes Wine Tasting Tour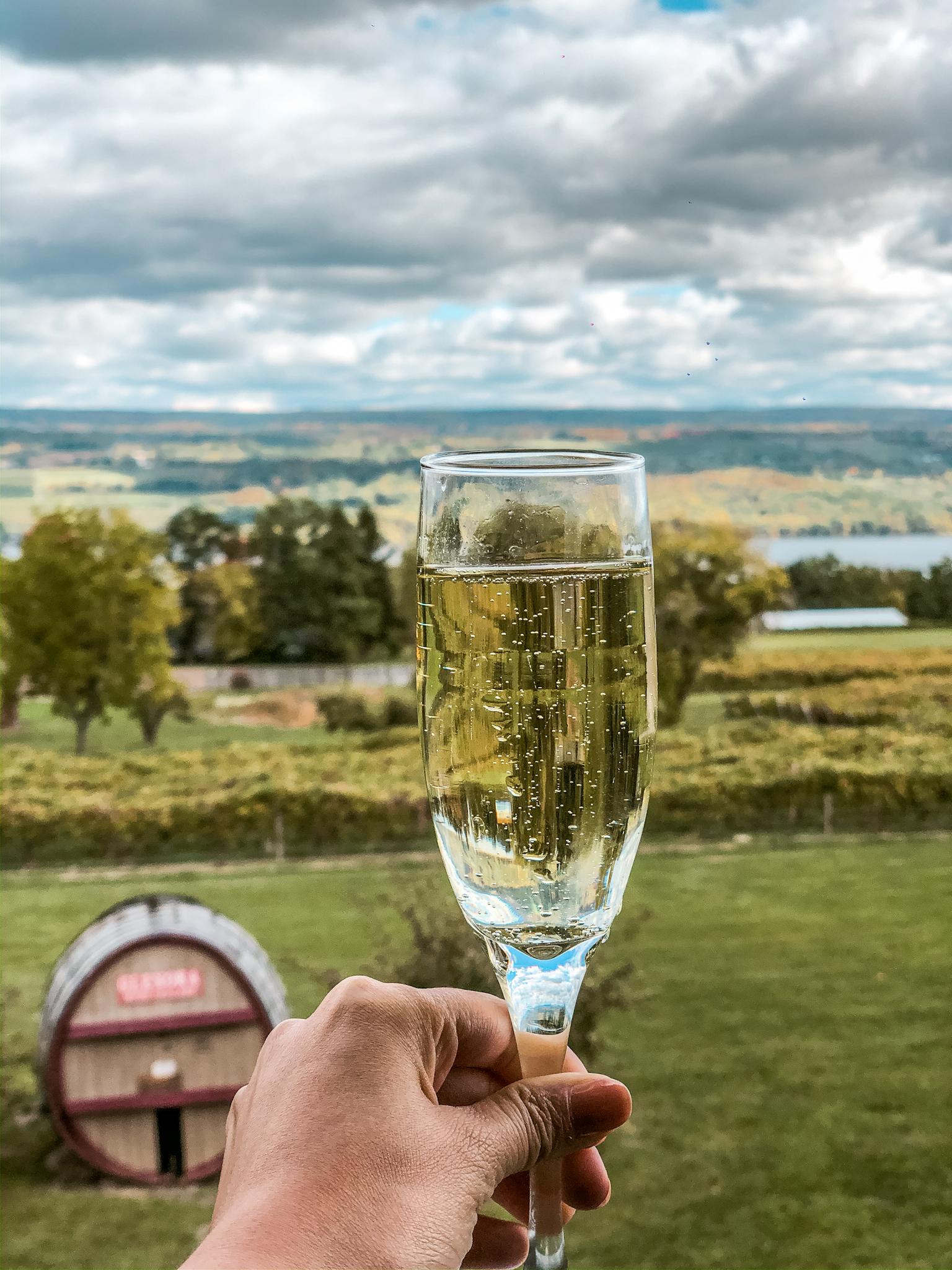 The Finger Lakes tasting is fantastic, with three popular trails to choose from: Cayuga Wine Trail, Seneca Lake Wine Trail, and Keuka Wine Trail. There are over a hundred wineries across the region between these three trails, with endless samples of local creations. You can visit each location on your own (with a safe ride, of course, or by booking private transportation) or book a Finger Lakes wine tour.
Hermann J. Wiemer Vineyard is one of our favorite wineries in the Finger Lakes, especially if you love sipping Rieslings. Rieslings rule the Finger Lakes region, so if you are a white wine drinker, this is where you want to be.
Go Kayaking or Boating on a Finger Lake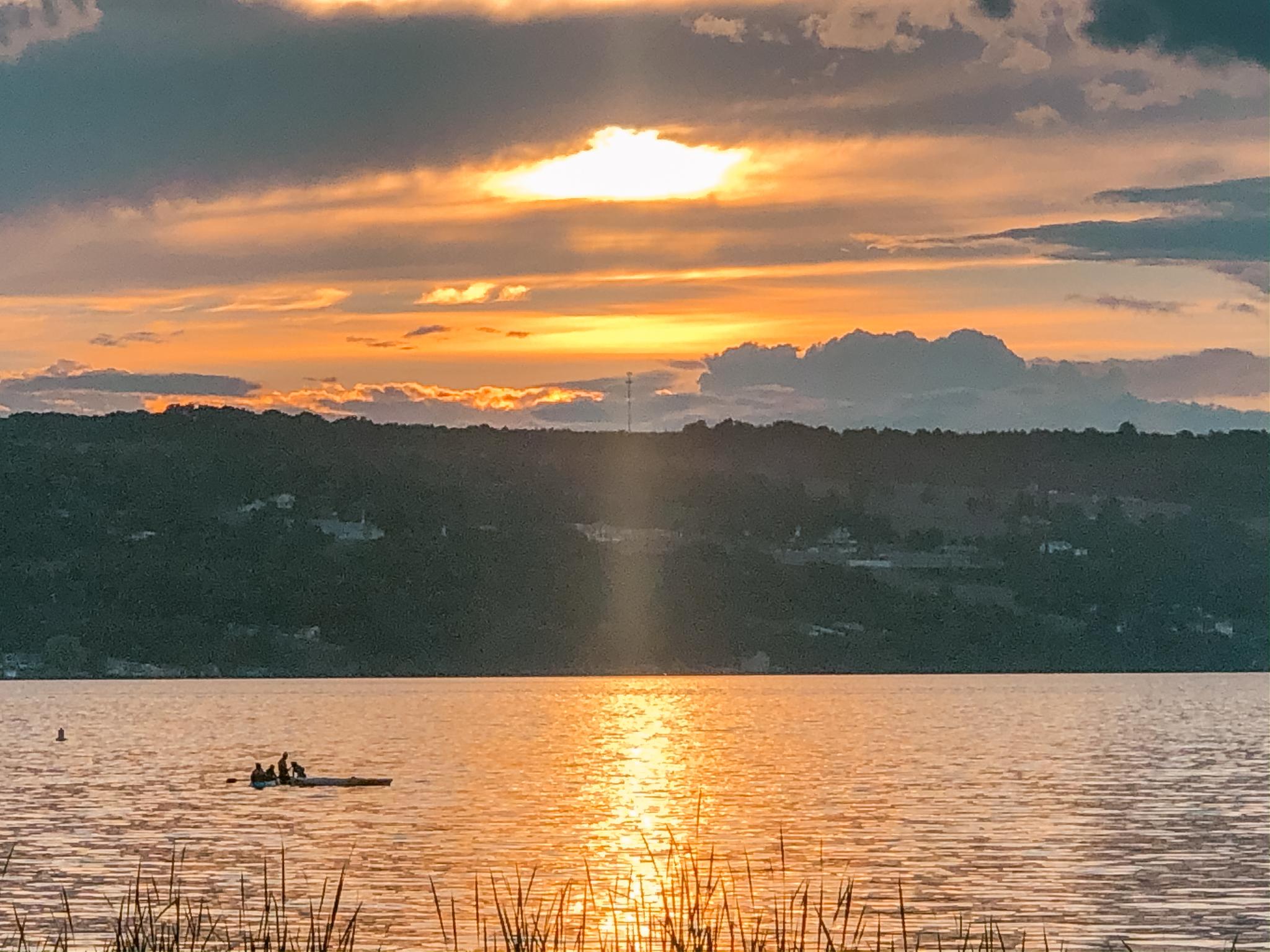 The Finger Lakes is a kayaking paradise. You can kayak and boat most everywhere, with the most popular spots being Cayuga Lake, Seneca Lake, Keuka Lake, and Canandaigua Lake. Boating is so popular in the region that most vacation homes will actually store kayaks for their guests to use on their trips. If that's not the case, you can easily rent one at several local agencies.
If you own your kayak, you just have to get it out on the water! Ten launch sites are available across several lakes for visitors to use. For a full boat launch list, check with the New York Department of Environmental Conservation for details.
You can also book a boat tour with local operators who can often combine boat tours with winery visits and other fun activities. Ending your kayak or boat trip with a bottle of local Finger Lakes wine is the cherry on top of a fantastic day.
Dine at FLX Table in Geneva
New York City is not the only stellar food scene in the state. Foodies love the Finger Lakes for it's amazing dining opportunities and unique cuisine. F.L.X. Table in Geneva is a small eatery with only 14 seats offering a 4-course, pre-set meal for dinner from Thursday to Monday. You get to share the space with the chefs crafting your meal in an intimate and charming atmosphere that connects everyone in the room. It feels like a personal dinner party!
I love that the prix fixe menu constantly changes, bringing fresh meal options to fit the season. Past favorites include dishes like Chicken Royal served with quinoa and burgundy truffle. Reservations can be tough at F.L.X., but there are other options to taste this cuisine through F.L.X. Bird for delicious fried chicken.
Horseback Riding Tours in Burdett
We love Watkins Glen State Park­–its natural beauty is unparallel to any park you'll find in most of the state. Horseback riding allows you to explore the park from a unique vantage point, with tours available through Painted Bar Stables. Stroll by on horseback some of the best waterfalls in New York State! It won't take long to see why this region is known for its natural wonders and great wine.
Horseback riding may be intimidating for some, but not to worry. Guided tours include expert riders who will help you along on your journey. Listen up because they'll also share some pretty cool facts about the Finger Lakes area.
Hike to Amazing Finger Lakes Waterfalls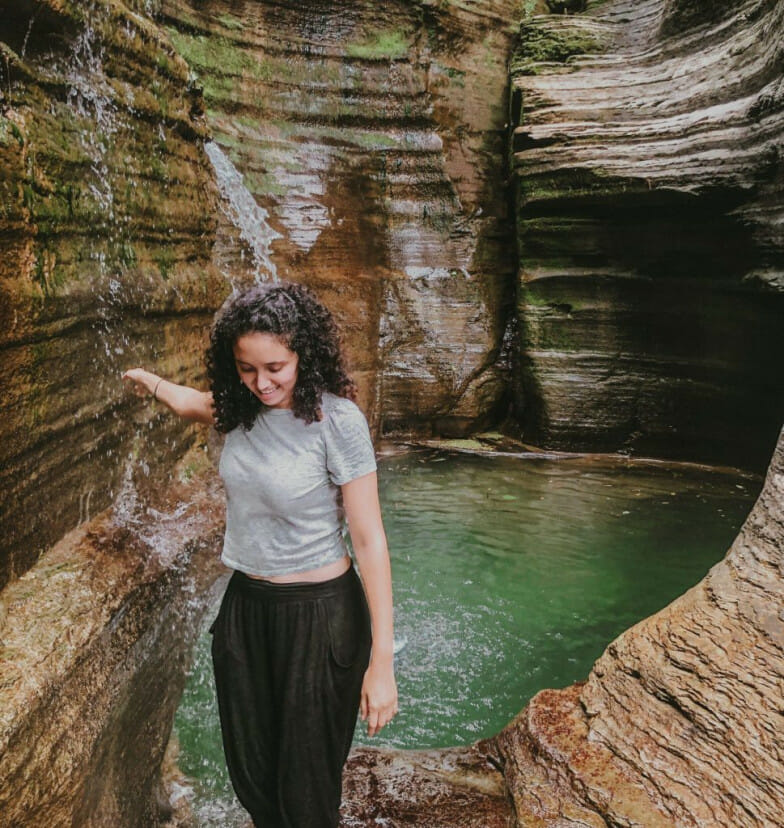 Hiking in the Finger Lakes is epic, with so many state parks, outdoor areas, and a national forest to explore. To find hiking options near you, check with the closest state park to where you're staying for assistance. Hikes across this region will range in difficulty, so you want to ensure you find one to suit your ability.
Buttermilk Falls State Park is one of our favorites, with stunning waterfalls and gorges. We also recommend checking out Finger Lakes National Forest. This gem has 30 miles of trails scattered through lush woods and serene pastures that sometimes have cattle grazing depending on the season.
Shop at the Ithaca Farmers Market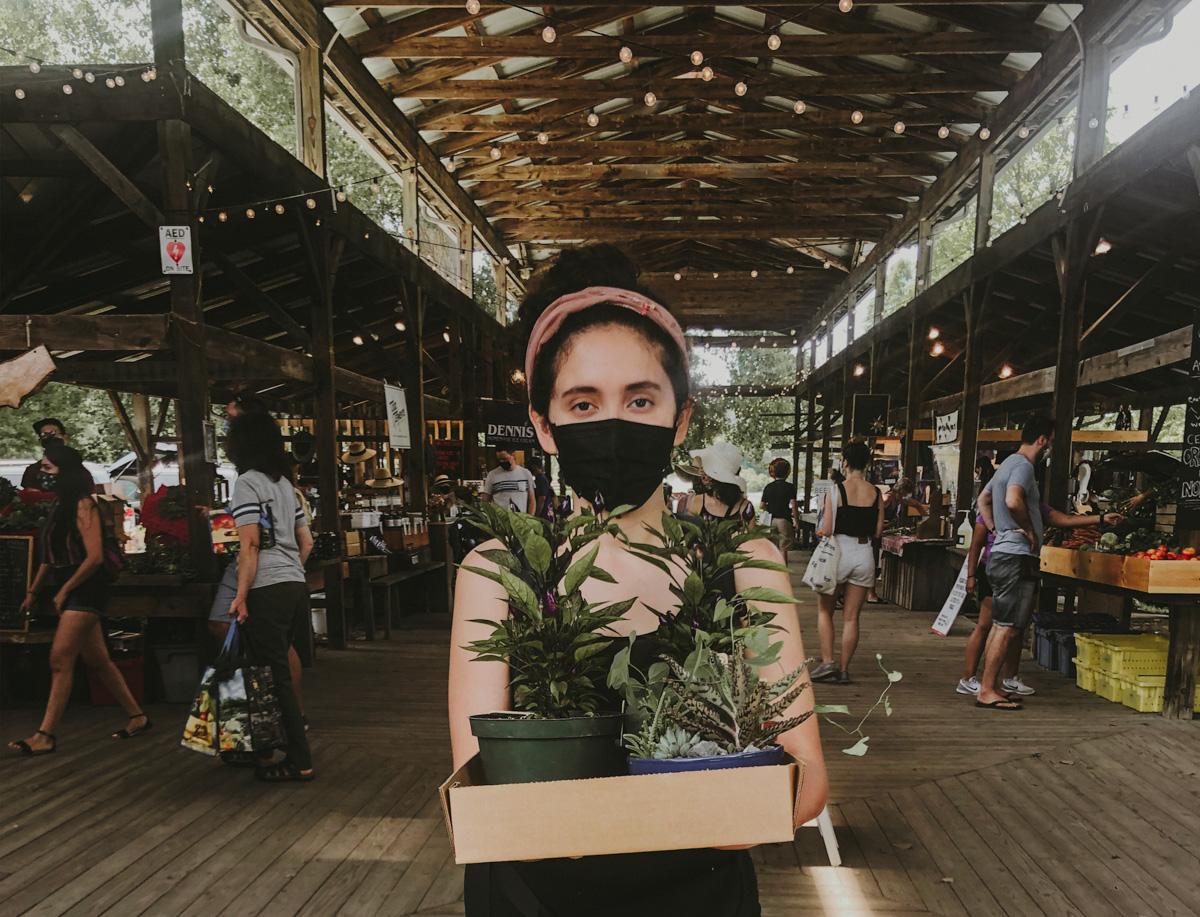 Tucked away on the shores of Lake Cayuga is the friendly young college town of Ithaca. We love this area, especially the Ithaca Farmers Market, which has been operating since 1973! You can peruse more than 130 vendors at the market selling produce and handmade goodies. If you're looking to hike or horseback ride in the Finger Lakes, this is a great place to stop and grab some snacks for your trip.
During the summer months, the market is spread across a park on the Cayuga Lake waterfront with spectacular views to pair with your local finds. The market is set up in the winter months at the Triphammer Marketplace to allow growers a full year to sell. Check the website for changes.
Explore Corning's Museum of Glass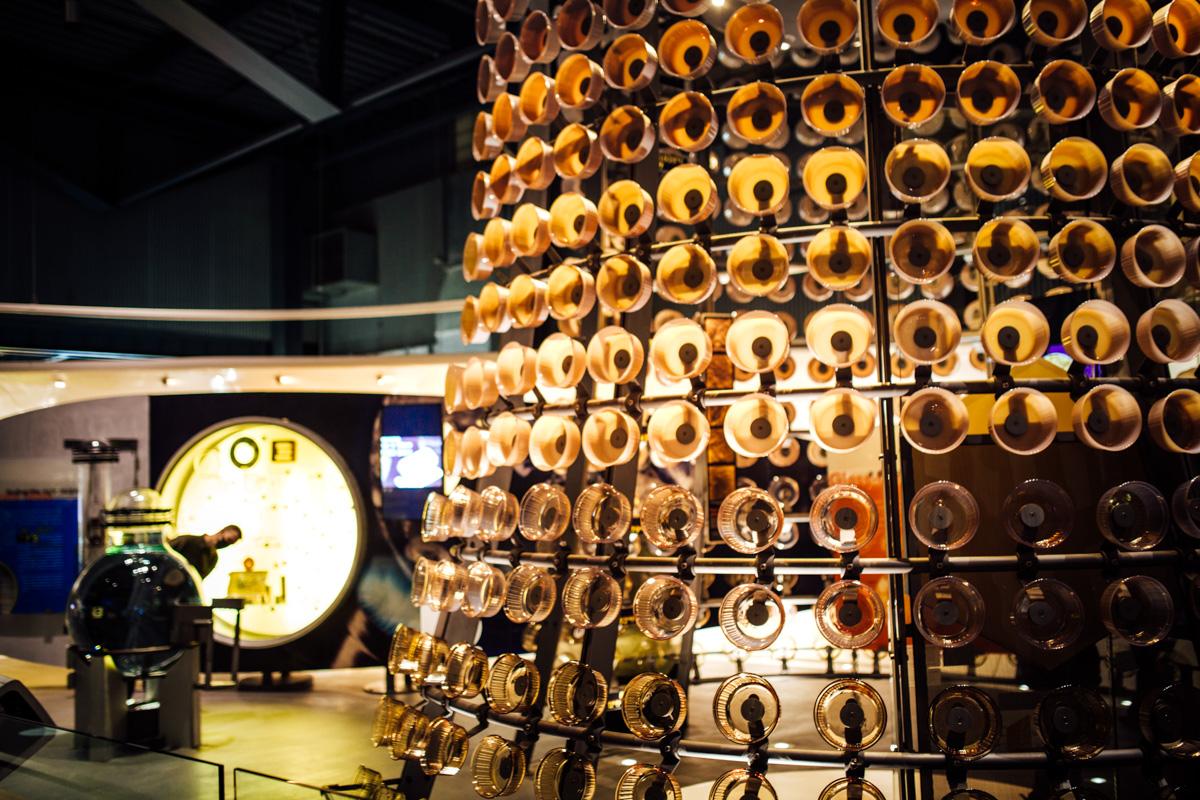 Corning may be a small city, but it has one of the world's largest spaces dedicated to the art of contemporary glass making and design! The more museums I've visited in my travels, the more they feel the same–a little dark, full of paintings in ornate frames, room after room of an older grand old building once some famous or rich's person's home. But the Museum of Class in Corning truly blew me away.
This attraction allows you to get up close to the glass-blowing process, watching artists create before your eyes. You can even learn to make glass yourself by signing up for a short class! Everyone in your group will enjoy the interactive galleries and exhibits teaching you about the history of glassmaking and the secrets behind this stunning art technique.
Ride on a Hot Air Balloon Over Letchworth State Park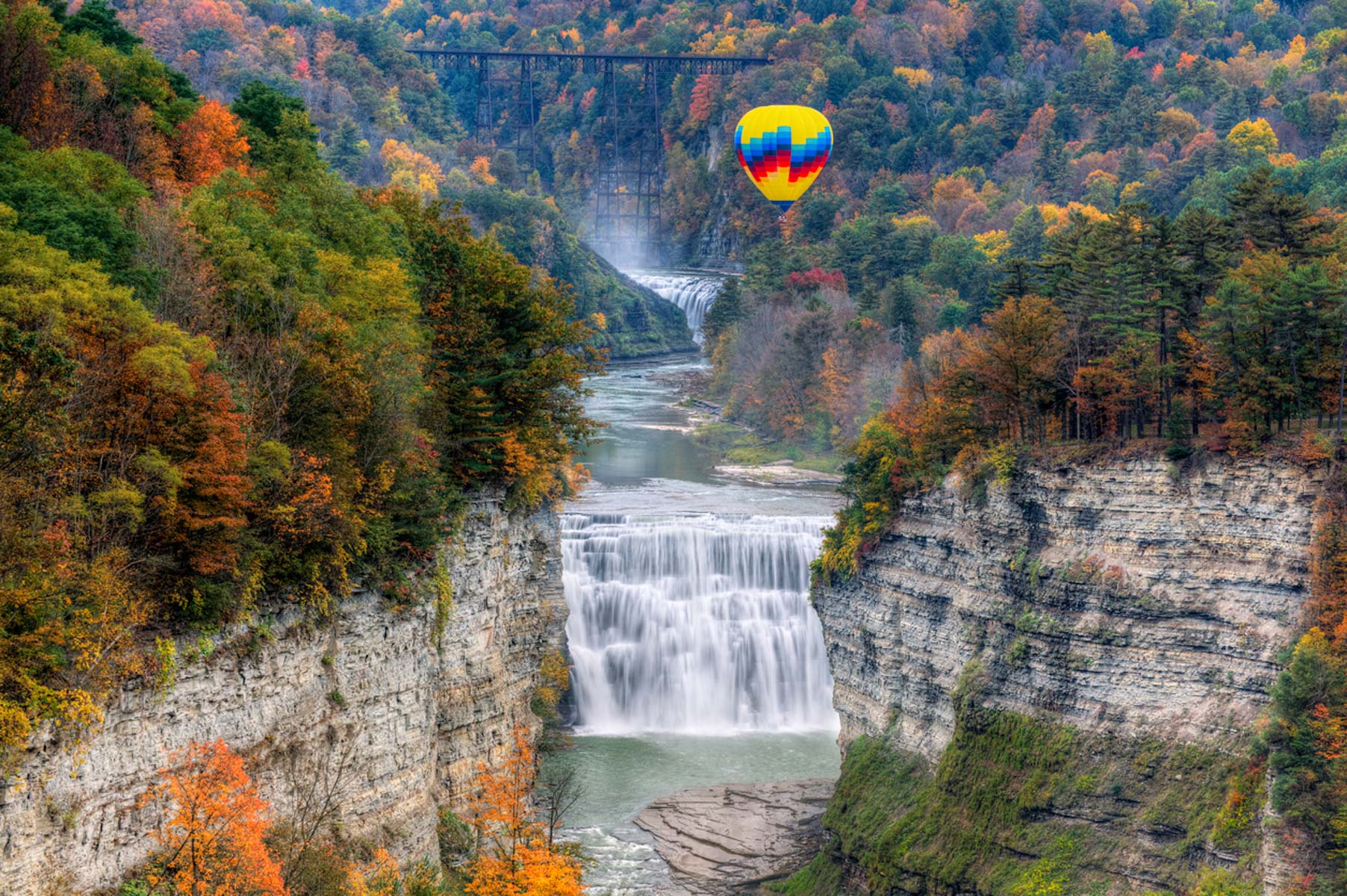 Letchworth State Park has some of the most gorgeous waterfalls in the entire country­–there's a reason it's nicknamed "the Grand Canyon of the East!" One of the most amazing ways to experience the full beauty of this park is on a hot air balloon ride, soaring above the breathtaking views. Don't like heights? You can hike and walk instead!
---
THE
Adirondacks

REGION

We ADORE the Adirondack Park. Between all the cute towns in the Adirondacks to visit year-round and the host of hidden gems in Upstate New York, you'll quickly fall in love with this region too.
Lake Gorge Ice Castles and Caves
The Ice Castles and Caves in Lake George are an award-winning attraction every ice and snow lover has to experience. Kids and adults alike love to explore the ice mazes, slides, tunnels, fountains, and more. As the season continues, more is added to the Ice Castles, so you're never visiting the same place twice.
It's going to be cold in this frozen world, so dress warmly. You can purchase tickets online for the Ice Castles from the end of January to the end of February. The attraction could extend beyond these months if the weather permits.
Hike the Mountains of the Adirondacks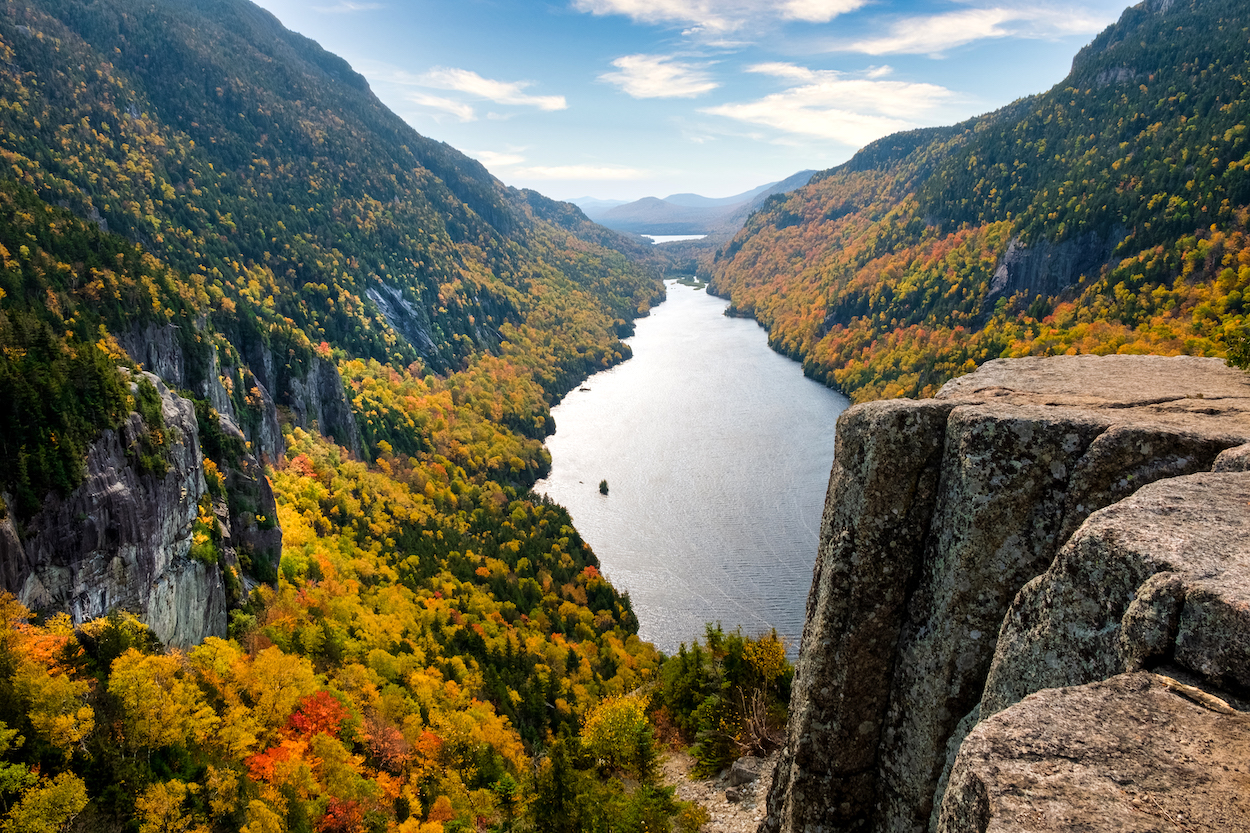 Tour the Ausable Chasm
Ausable Chasm is an exciting canyon in the Adirondacks with a ton of activities to keep you busy. You must pay a fee to enter; even the hiking trails cost a fee, but they're worth it. Paying for a tour will get you a package of tube rides, a guided tour of the canyon and caves, and more.
We recommend taking the day to explore the Ausable Chasm. It's the perfect attraction for New Yorkers who want to experience the natural beauty in their own backyard.
Snowshoeing in the Adirondacks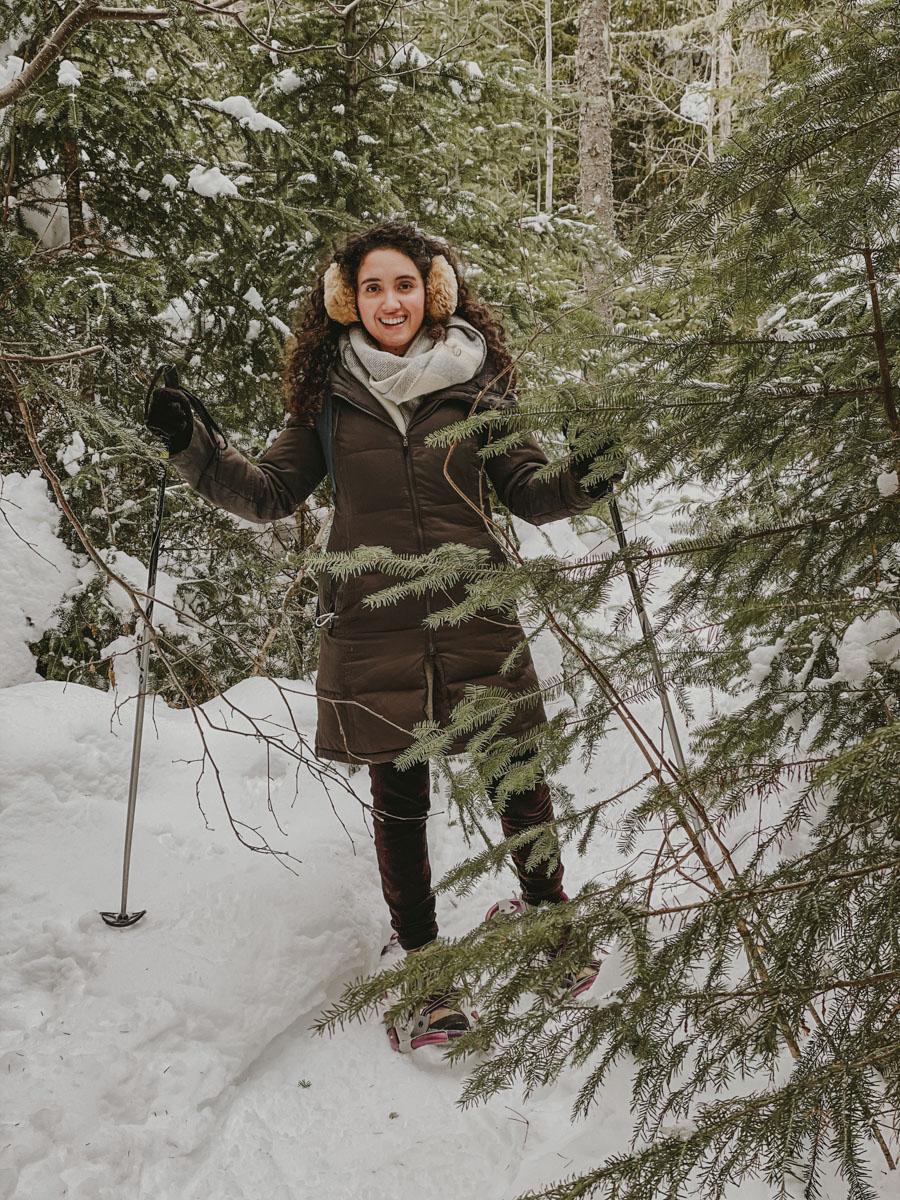 The Adirondacks are one of the best places to visit in the winter if you love to ski. If you're staying in or near Lake Placid, you have to check out Cascade X-C Ski Center. This place has everything you need, from rentals to apparel to equipment, and 12+ miles of trails! They also have a restaurant and lodging accommodations at the bunkhouse.
Renting an iconic cabin in the mountains is a dream, but it's not always affordable. Staying at the bunkhouse is a great way to pay discounted rates at the ski center while getting that traditional Upstate New York lodging experience.
Winter Wonderland Lodging Experience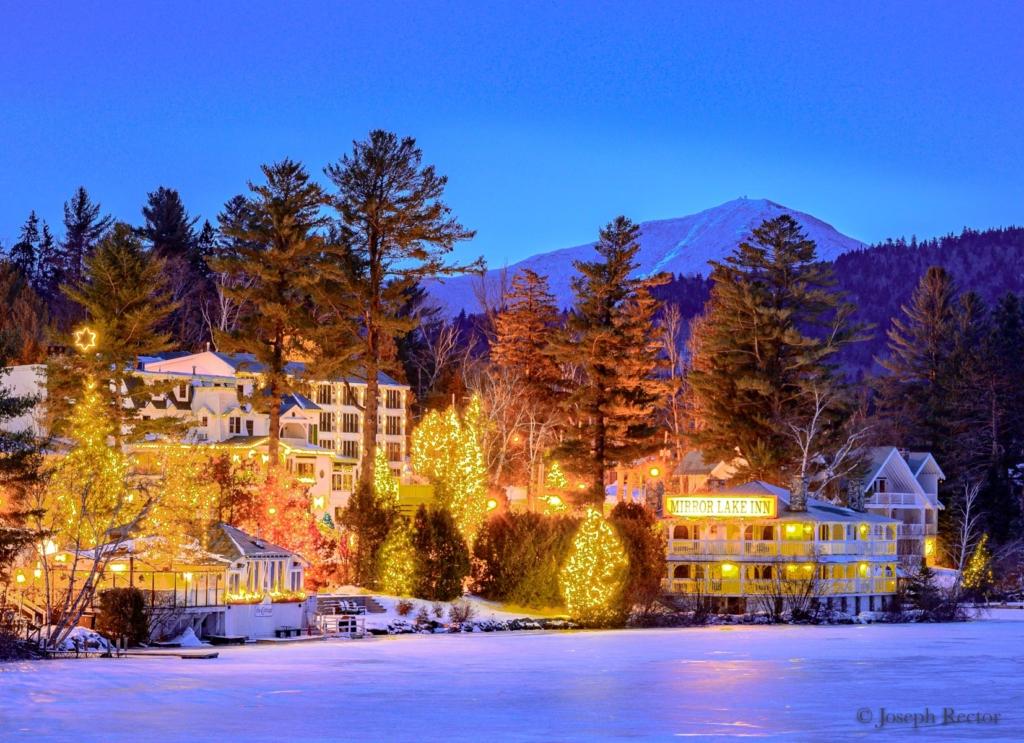 Some of our favorite cute cabin and lodge rentals in Upstate New York are right in the Adirondacks. They range from grand to cozy, but all give you that Great Camp vibe.
Swimming/Kayaking in the Adirondack Lakes (Like Lake George)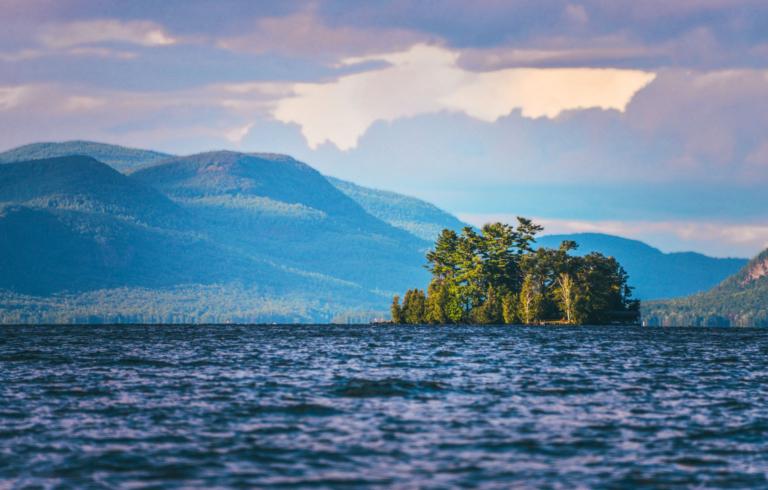 Visiting Lake George is the perfect long weekend getaway from New York City and the ultimate Upstate New York experience. Try renting a cabin by the beach for the ultimate lake vacation in the summer. There are a ton of boat tours in the area and places to rent kayaks and water skis, with lessons available to book.
When it gets hot, try grabbing a cool treat from Lake George Ice Cream in town. This is especially perfect for those spending the day at Million Dollar Beach. If you're looking for a hiking trail to pass the time, Lake George is the gateway to the Adirondacks and has plenty.
Bonus: In the winter, Lake George offers several outdoor opportunities as well. And even hosts a Winter Festival, which includes an ice castle.
---
The Hudson Valley
Grab a Drink at the Cider House
In the fall, the Hudson Valley turns into apple country. And every apple has the capability to turn into a tart, crisp, delicious cider. While not everyone has tried apple cider, this was certainly a popular drink back in the day. Hudson Valley cider mills are bringing back the hype around cider, and there are dozens of places you can go to sample the goods.
Kettleborough Cider House is one of our favorites and has a spectacular view of Shawangunk Ridge. Twin Star Orchards is another premier spot, often providing live music and food to buy. Some cider houses also double as an orchard or farms where you can pick apples!
Take a Private Helicopter Tour in the Hudson Valley
The fall foliage in the Hudson Valley is breathtaking, especially from a bird's eye view. You can book a Private Fall Foliage Helicopter Tour of the Hudson Valley that will take you high above the tree tops to soak in all the natural fall colors. This trip leaves right from Manhattan and takes about 30 minutes total, perfect for a quick trip out of New York City.
Persue Art at Dia Beacon Museum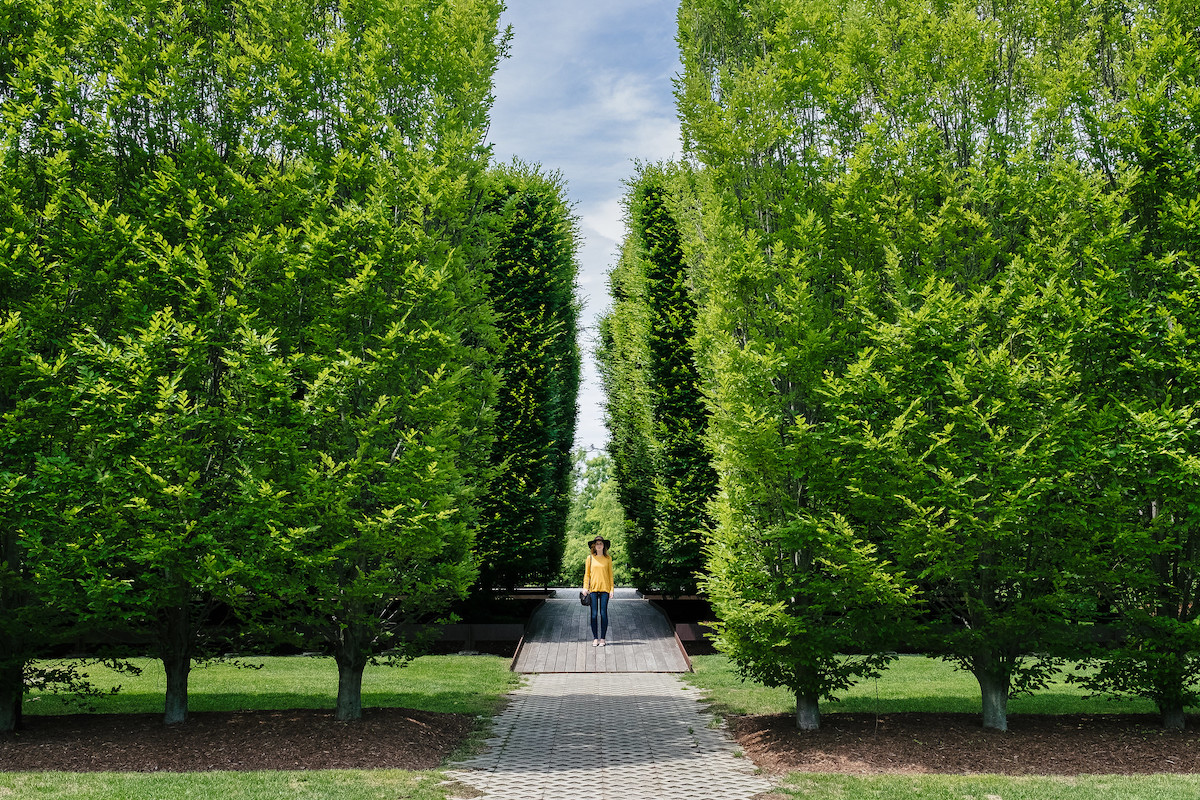 Love contemporary art? Dia Beacon is a hub for contemporary artists set on the shore of the Hudson River. The museum itself is in an old Nabisco box-printing favorite, with ethereal nature lighting you must see to believe. Art displays range from the 1960s to the present day and feature a number of rotating exhibits.
If you want to ditch your car (or don't have one), you can take the Metro-North Hudson Line train from Grand Central Station all the way to Beacon. The museum is within walking distance from there and close to tons of cafés, shops, and restaurants on Main Street. Our favorite places here are All You Knead Artisan Bakers and Reserva Wine Bar.
Visit Hudson Valley Wineries
There's another way to explore the natural beauties of the Hudson Valley without having to hike around­–visiting wineries. Wineries in the Hudson Valley are sprawled across acres of stunning fields, with mountain backgrounds, sometimes with views of lakes and rivers Not to mention, wineries in this area of the state know how to craft a delicious glass of wine!
Robibero Winery near New Paltz has stunning views of the Shawangunk Mountain range–the drive here from New York City is simply gorgeous. Robibero was voted one of the best wineries in the Hudson Valley for handcrafted batches. Other popular spots include Benmarl Winery in the rolling hill of Marlboro with views of the Hudson River and Magnanini Winery, Restaurant & Distillery in Walkill.
Hike Through the Hudson Valley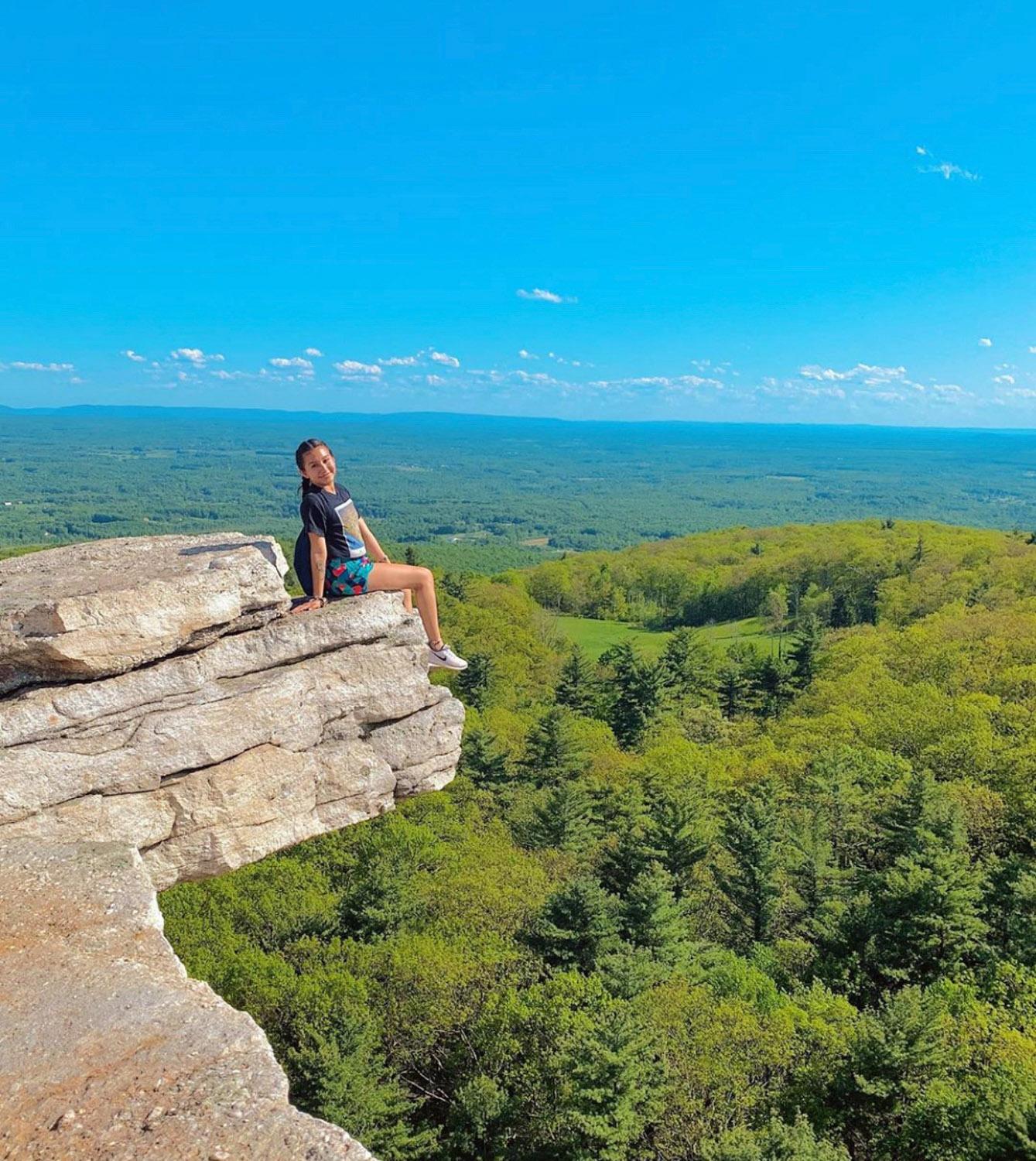 Visit NY's Original Capital: Kingston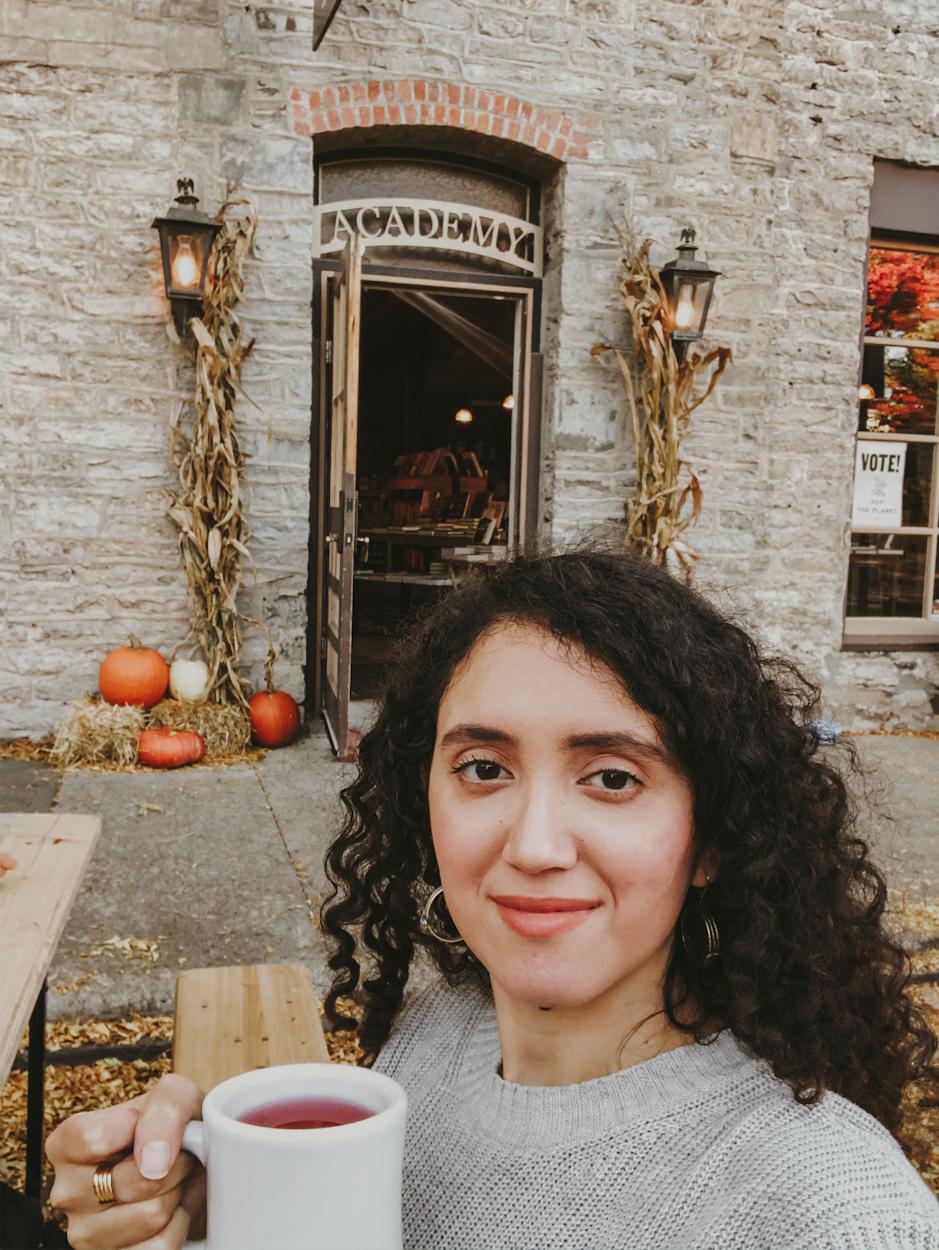 You heard right; Kingston used to be New York State's original capital! It's a small town along the river, full of charming brick buildings full of shops, and eateries. There is history around every corner, and it's the perfect town for a weekend getaway from NYC.
Visit the bookstore at Four Corner, the only intersection in the country where all four buildings dating back to the Revolutionary War era. You can visit the farmers' markets around town or take a boat tour along the Hudson River. Kingston is the perfect distance from the Catskills and the Hudson Valley.
The Stockade District of Kingston has a ton of beautiful buildings and historic features that can serve as a backdrop to a photo shoot. Book an Uptown Kingston photographer for a personal or group photoshoot while you walk and explore.
See Outdoor Sculptures at Storm King Arts Center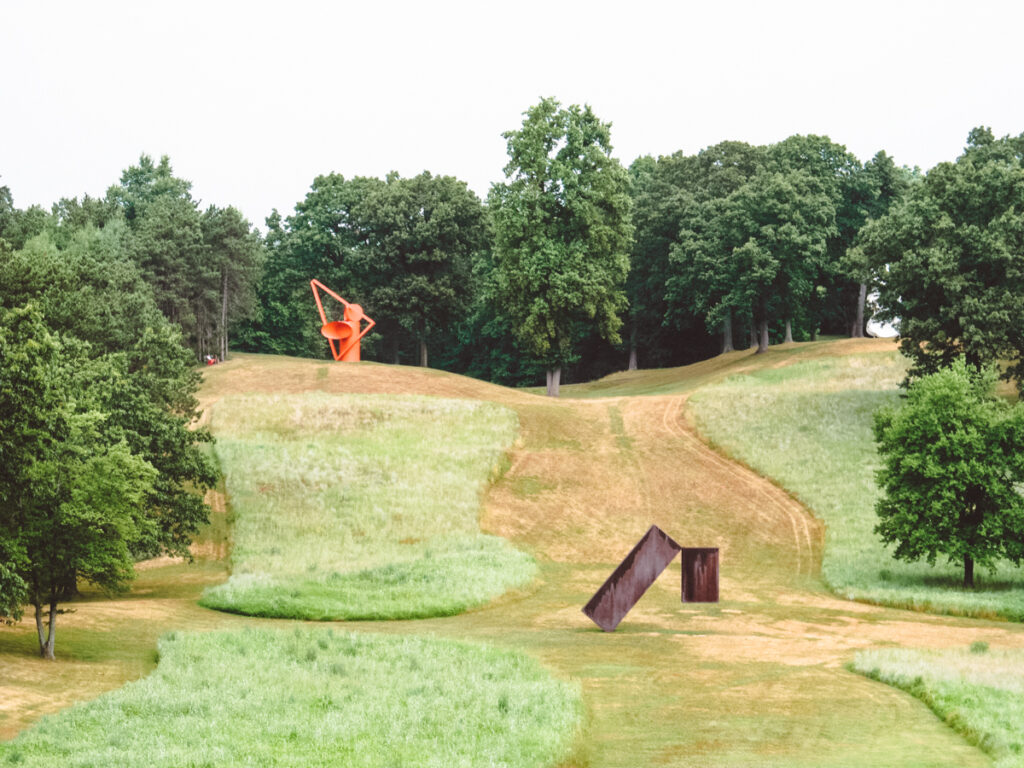 Exploring the open-air museum at Storm King Arts Center is out of this world. It beats an old stuffy, dark museum by far and offers visitors access to the country's largest collection of contemporary outdoor sculptures!
Take your time here wandering around the grounds and really taking in works of art like Suspended or the Three-Legged Buddha. These sculptures are so large you're barely going to notice any of the other visitors while you are transfixed on all the beautiful pieces.
---
The Capital Area
Soul Fire Farm
Like most other institutional systems in our country, the food system is often a deeply racist mechanism. Committed to uprooting racism and seeding over sovereignty, Soul Fire Farm is an Afro-Indigenous-centered community that goes deeper than simply planting food.
Soul Fire Farm provides amazing training programs for Black and Brown farmers and growers. They also offer workshops for urban youth and more. You can get involved with their mission in so many ways, even if you're just visiting. Take a tour, volunteer at the farm, or attend a half-day public speaking event to show your support.
Visit Troy, NY
Troy, NY is just north of Albany and is home to the famous Uncle Sam! Once a manufacturing city, Troy has transformed into a cultural and economic hub with an exciting waterfront full of attractions and restaurants. It's also known as Collar City for supporting twenty-six shirt manufacturing facilities back in 1901!
Check out the Burden Iron Works Museum, which formerly housed the Burden Water Wheel–the most powerful vertical water wheel in history. If you're hungry, Dinosaur Bar-B-Que is a nationally acclaimed restaurant with award-winning sauces and dishes. Then, take a stroll from the Oakwood Cemetery, with 29 miles of roads and thousands of historic graves surrounding 4 manmade lakes.
Relax in Saratoga Springs at the Roosevelt Baths & Spa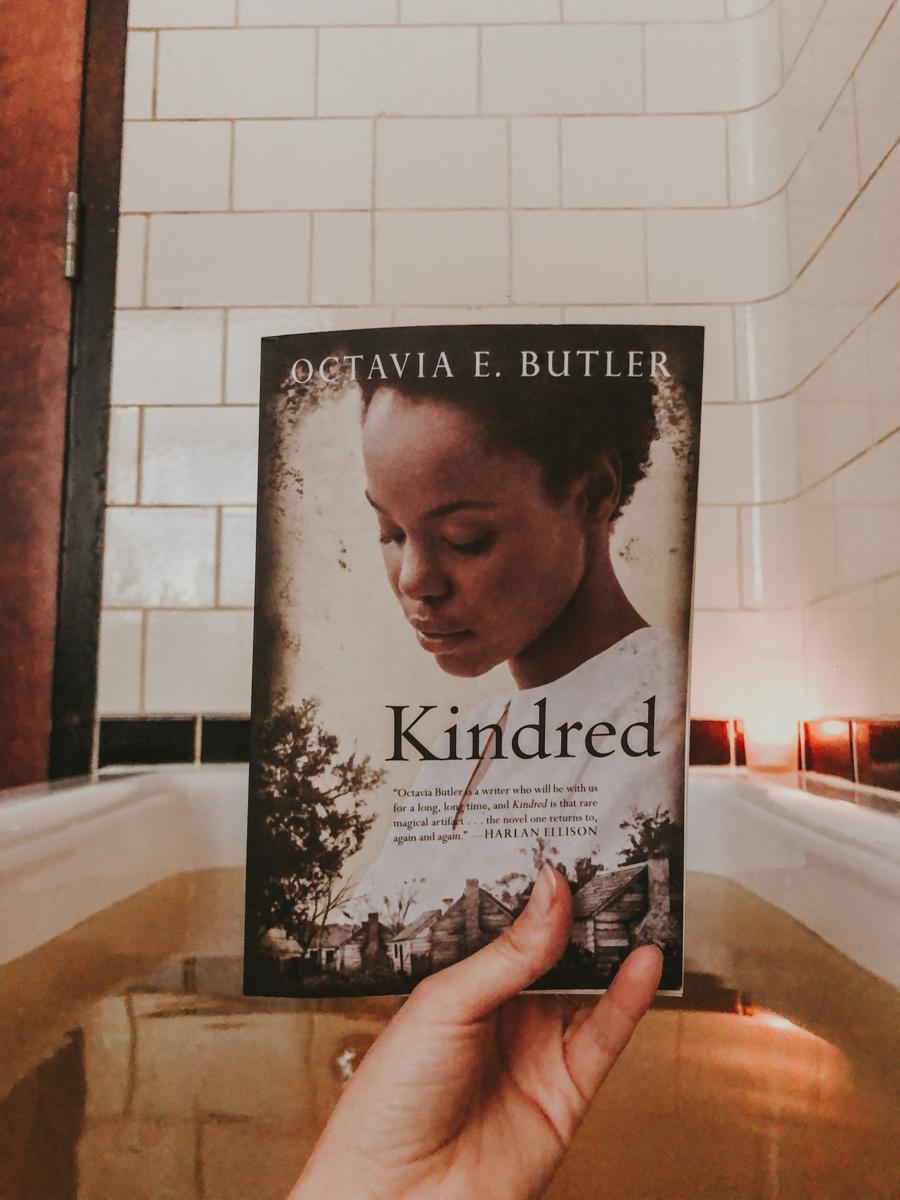 It's safe to say that the last couple of years has been stressful for us all. There is no better time than now to hit the spa to relax your tired muscles. One of the coolest places to visit in Upstate New York to do this is Saratoga Springs Spa Resort. This gem has run for 85 years and uses the natural underground spring waters for a number of treatments.
Get a facial, mineral bath, or massage at the Roosevelt Baths & Spa almost every day except on major holidays. A visit here is an affordable method of muscle relaxation that will allow you to get your body back on track.
Tour Albany: The New York State Capital!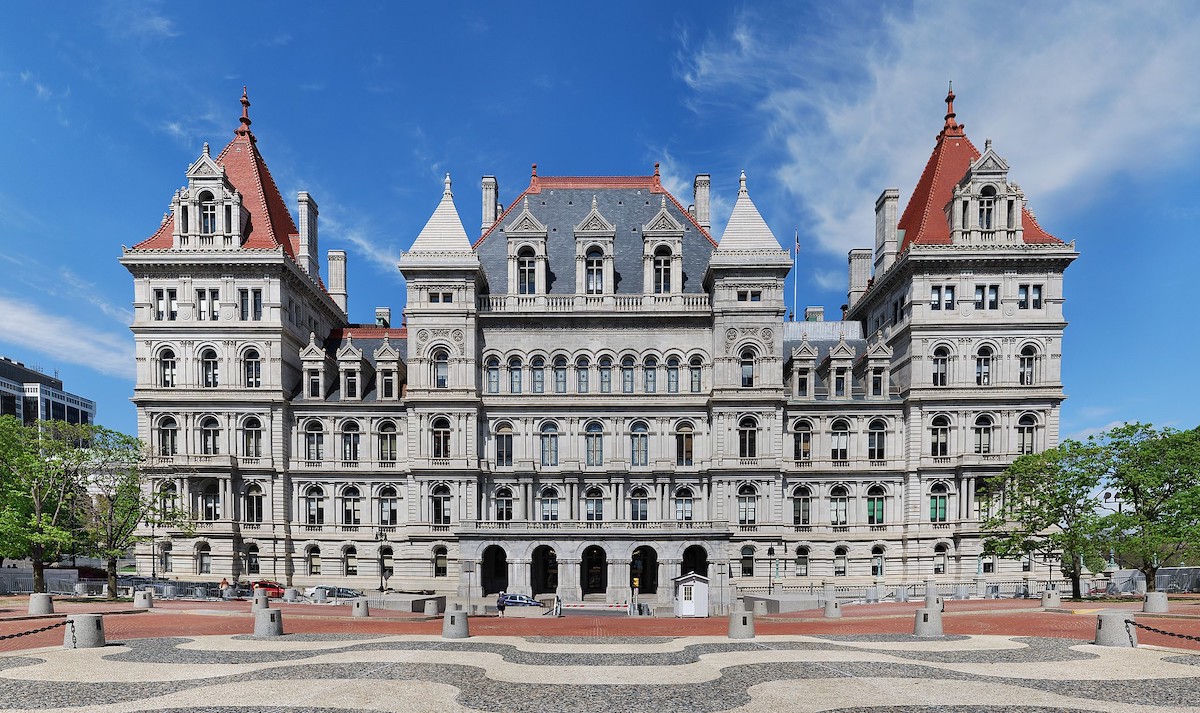 While it's always been important to stay involved in government policies on all levels, it's become even more crucial in the past few years. Life-altering legislation is being fought out at the state level that could significantly affect how we live our lives. So, in return, let's get to know New York State government a little better!
You can tour the New York State Capital building in Albany and learn all about its history and the government officials who created our state's legislation. This has to be one of the coolest things to do in New York's capital city­, not to mention meaningful.
Learn About the Underground Railroad Education Center
In New York State, two of the most well-known and influential Black abolitionists were Harriet and Stephen Myers. These two were central figures of the Underground Railroad in the state, and their residence is now home to the Underground Railroad Education Center. Take a tour of the home or attend events to learn all about the role everyday citizens played in ensuring a more democratic future for everyone equally.
Born a slave, Stephen Myers became a leading anti-slavery activist in the northeast region after slavery was abolished in 1827. Together, Harriet and Stephen Myers helped people escape slavery for decades out of their homes and worked on a newspaper that espoused abolitionist ideas.
---
Central New York Region
Hiking in Chittenango Falls State Park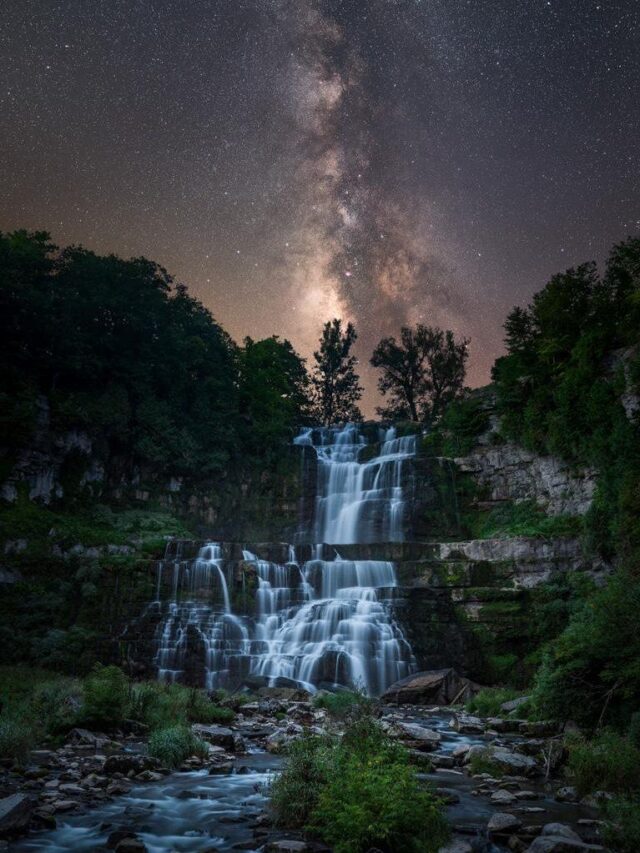 Central New York has just as many opportunities to splash in the water as the Finger Lakes and Great Lakes regions. Just southeast of Syracuse, visitors can stop at Chittenango Falls State Park, where they can have a picnic lunch, take a stroll, or hike to a dazzling waterfall.
We love this small park because it's easy to walk around and access the waterfalls. It doesn't take a lot of time or preparation to visit Chittenango Falls State Park, and they're even a little footbridge for a casual stop.
Shop Around at Syracuse Antiques Exchange
If you love antiques, you have to spend some time at Syracuse Antiques Exchange, featuring four floors full of treasures. This is the largest and longest-running antique store in the state, outside of New York City. You'll find a huge collection of Victorian and Midcentury furniture, unique lighting fixtures, and tons more to explore.
Antique shopping may be a fun hobby, but it can quickly become costly if you're not careful. Syracuse Antiques Exchange offers is a great place to buy your first antique, with various price ranges that would set you too far back.
Spend the Day at Green Lakes State Park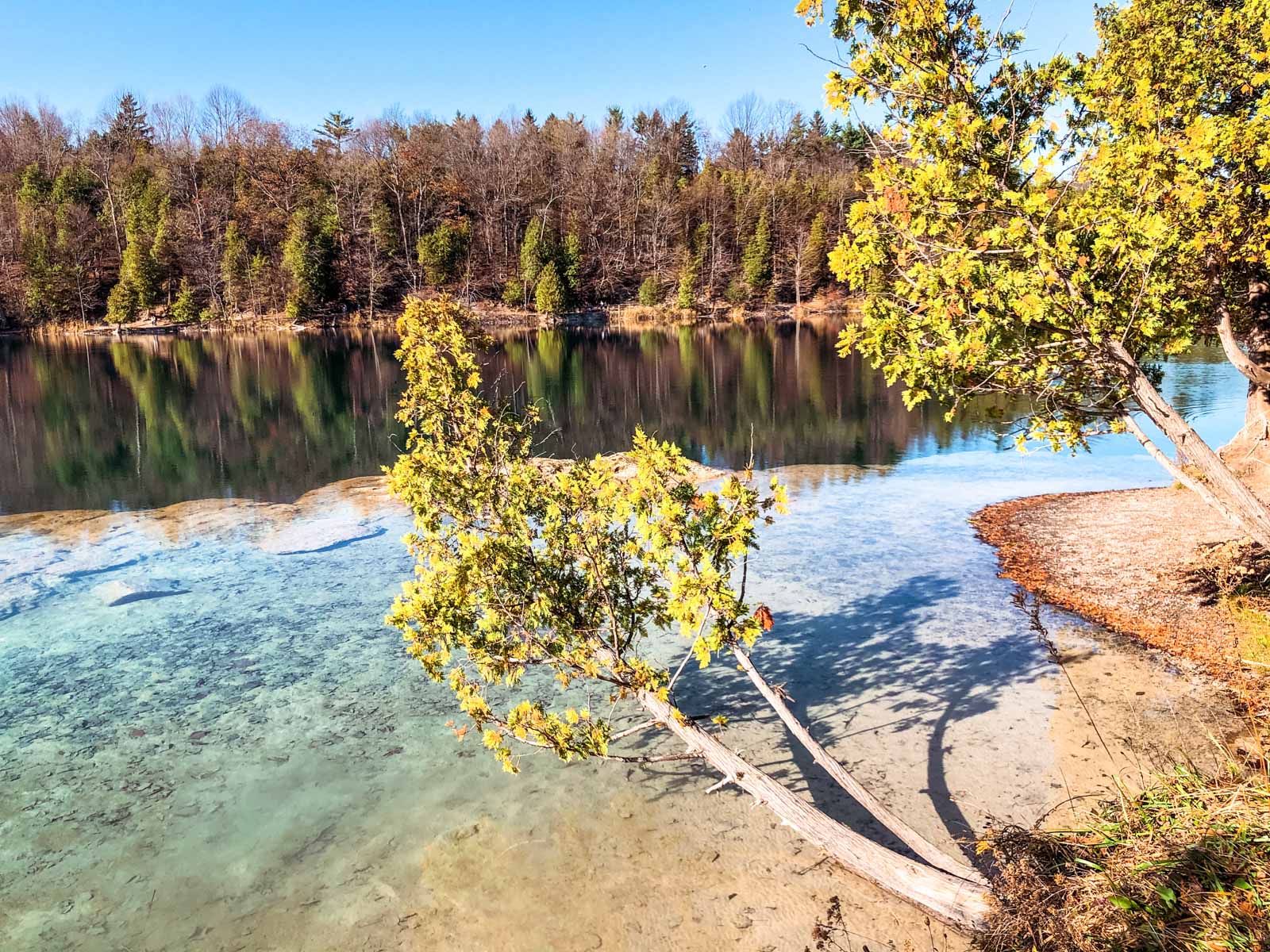 Green Lakes State Park is one of our favorite places for cabin rentals in Upstate New York. There are two lakes in the park, campgrounds with cabins for rent, and a fantastic golf course. The property is covered in towering woods and has miles of hiking trails for summer hikes or snowshoeing adventures in the winter.
If you're in the Syracuse area, Green Lakes State Park is super close. Visiting here for the day is a perfect break from the hustle of busy city life and a way to reconnect with yourself in nature. You'll be relaxed and focused when returning to one of the best cities in Upstate New York.
Check Out Breweries in Syracuse
Craft beer brewing has burst in popularity over the past few years, especially in bustling cities like Syracuse. There are more breweries in the city than you'll be able to visit in one trip. But at least you can hit a few in between other activities in the area.
Buried Acorn Brewing Company is a popular spot for sour beer and ale lovers. It features some of the best sour brews in the city, and it's not far from Onondaga Lake. If you're in the rural part of the Syracuse suburbs, you'll want to hit Heritage Hill Brewhouse, boasting fantastic views of the downtown area from inside and outside the taproom. Plus, this place has killer food!
Go Mining for Herkimer Diamonds
While Herkimer diamonds are technically real diamonds (they're quartz crystals), these beautiful treasures are really fun to find! You get to keep everything you find when mining at the Herkimer Diamond Mines set right in Herkimer, NY.
Herkimer Diamonds are stunning, and even more so when you turn them into jewelry at the Artisan Center. Don't worry if you forget your mining hammer! The admission price will cover the cost of borrowing one from the mines.
Chimney Bluffs Hike along Lake Ontario
Commonly known as 'The Bluffs' in communities across Central New York, Chimney Bluffs State Park is a picturesque scene on the shores of Lake Ontario with dramatic spikey "bluffs" along the waterfront. Visiting this park on a summer day was one of our favorite things to do in Oswego when we were students there! The bluffs are so dramatic and look stunning on the shore.
There is a myriad of trails along The Bluffs you can walk along. It's not uncommon to find students from SUNY Oswego or other local colleges soaking up a little bit of warmth on the sand before the cold hits Central New York.
---
WESTERN +
Niagara Frontier NY Area
Touring Chautauqua Wineries
More than 30,000 vineyards are spread across the Lake Erie Grape Belt set along a 50-mile wine trail known as Lake Erie Wine Country in Chautauqua County. These vineyards produce about 65% of the state's entire grape harvest, shipping off to 35 countries! Wine tasting in this area is a treat; they host year-round events and tours to explore it all! Read more: Best Chautauqua Wineries!
Camp and Hike at Allegheny State Park
Allegheny State Park is an exceptional place for camping, hiking, boating, and all things outdoors just north of the Allegheny National Forest. The Quaker area in the park has two lakes, campgrounds, and a sandy beach for swimming and fishing. You can also launch canoes and kayaks from Friend's Boat Launch. Read our guide to: Visiting Allegheny State Park!
See the Epic Niagara Falls
Niagara Falls is more than just a big waterfall­–it's a State Park, its own city, and an internationally-known attraction for visitors worldwide! Visiting Niagara Falls is one of the coolest things to do in Upstate New York, with more than enough in the surrounding area to keep you busy.
Daring visitors can take a boat tour under the falls. (Be prepared to get wet!) You can also walk on the rails around the shore, hit the casino, visit an amusement park, and so much more. Bring your passport just in case you want to peruse the Canadian side of the falls for a different experience.
Hop Around the Museums in Buffalo
There are tons of museums in Buffalo just waiting for you to soak up all the history. Museum hopping is one of the best things to do in New York State. One of our favorites is the Buffalo Museum of Science, where your inner child will spring out immediately when hitting the dinosaur fossil exhibit. Next, you can head to the Buffalo History Museum, where you can explore the development of the Western New York frontier.
Art lovers should certainly not miss the Albright-Knox Art Gallery, featuring exhibits and collections of contemporary art reflecting present culture. For a rare museum, the Museum of disABILITY History is a unique attraction to educate the public on people with disabilities, their treatments, and their contributions to history. Need a few more? Try out the Buffalo Harbor Museum and Frank Lloyd Wright's Martin House.
Taste Craft Beers at Buffalo Breweries
Micro-breweries in New York State are some of the best in the country, and the industry continues to grow. Buffalo is no exception when it comes to tasty breweries, especially in the last decade. Some are so exclusive you can't find them outside Western New York!
Big Ditch Brewing Company is a perfect place to relax with an IPA or ale and eat some snacks. The Thin Man Brewery offers a huge rotating tap list and includes a delicious IPA. Some of our other favorites include Community Beer Works and Resurgence Brewing Company, both worth the stop.
Hungry? Buffalo has an extremely underrated foodie scene, perfect for exploring after some tasty beers. You'll love tasting different dishes at the best restaurants in Buffalo, NY.